Almond and ginger shortbread with cranberry royal icing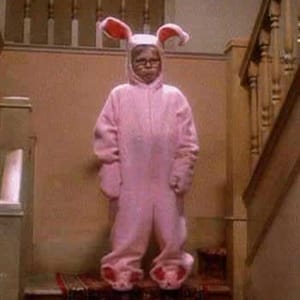 Cranberry sauce was a staple at holiday dinners growing up. We're talking the good kind… from the can… with ridges. You know the stuff! While we can endlessly debate which is better — canned vs. fresh cranberry sauce — we hope we can all agree that the tartness of cranberries really packs a punch of flavor. But cranberries aren't just a side dish for turkey anymore…
These cranberry Pink Nightmares will surely wake up your taste buds when you're sleepily sipping your morning coffee. We keep them small so you won't feel guilty about eating two…or three or four!
Don't let the name scare you — it's a nod to our favorite holiday movie kid, Ralphie. If only Aunt Clara had been a baker and not a seamstress!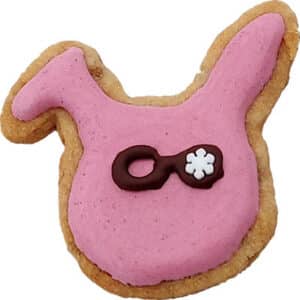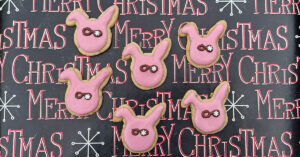 Pink Nightmare Cookies
Almond and ginger shortbread with cranberry royal icing
Ingredients
Dough
1

cup

unsalted butter

(room temperature,

2

sticks)

½

cup

white granulated sugar

1 ½

teaspoons

almond extract

½

teaspoon

vanilla extract

2

cups

all-purpose flour

½

cup

crystallized ginger

(finely chopped)
Royal Icing
3

Tablespoons

freeze-dried cranberry powder

(about

½

oz or

½

cup of whole freeze dried cranberries)

1

cup

powdered sugar

2 ¼

teaspons

meringue powder

(e.g., Wilton)

3 ½

Tablespoons

water
(Optional) Ralphie Glasses
¼

cup

chocolate chips

(or chocolate melting wafers)

36

pieces

decorative snowflake candy
Instructions
Dough
In a large mixing bowl, whip the butter till it's pale and fluffy.

Add the white sugar and beat 1-2 minutes until smooth.

Add the almond extract, the vanilla extract, and the crystalized ginger and mix thoroughly.

Do not use an electric mixer for this step! Gradually add in the flour and stir by hand with a wooden spoon until the dough is evenly mixed, being careful not to overmix.

Divide the dough into two parts and wrap each in plastic wrap.  Refrigerate them for 1-2 hours.
Baking
Preheat the oven to 350°F.

Sprinkle flour onto the countertop or a silicone mat and roll out the dough to ¼ inch thick.

Use a cookie cutter to cut out shapes, and place them onto cookie trays lined with a silicone baking mat or parchment paper, leaving ½ inch between cookies.  The cookies will not spread much during baking. Our 36 count batch size was using a 2 ¼ inch cutter.

Bake the cookies until the edges just begin to show a light golden color, about 13-16 minutes.  Immediately transfer the cookies to a wire baking rack and allow them to cool completely before adding the icing.
Royal Icing
Finely grind the freeze dried cranberries.  You can do this using a small food processor, a clean coffee bean grinder, or by putting the freeze dried cranberries in a zip-lock bag and crushing them with a rolling pin. Sift the grounds to keep only the powder, producing

3

Tablespoons of cranberry powder.

In a medium mixing bowl, mix the cranberry powder, powdered sugar, and meringue powder.

Add the water, then whip for 7-10 minutes.

Using a pastry bag with a small round tip (Wilton #6), pipe the icing around the edge of the cookie and continue spiraling towards the center. The icing swirl will run together and form a smooth layer of icing.

(Optional) To add Ralphie's broken glasses, you can melt chocolate chips or chocolate wafers and pipe them onto the cookie. But first allow the pink icing to dry for at least an hour — the icing doesn't have to be completely dry, but should be firm to the touch. Melt the chocolate in a microwave safe container for 20 seconds on 50% power, stir, and repeat the 20 second intervals until the chocolate is just melted enough for piping (don't over cook the chocolate!).  Transfer the melted chocolate to a pastry bag with small round tip (Wilton #4) and pipe the glasses. Add a snowflake decorative candy to represent the crack in Ralphie's broken glasses.

Leave the iced cookies uncovered for several hours to dry completely before stacking them or transferring them to an air-tight container.
Tips & Tricks:
Over mixing shortbread dough can make the cookies hard as a rock. Don't go crazy and blend the dough with an electric mixer or else you'll produce stiff, unappetizing cookies.
A coffee bean grinder or small food processor works great to pulverize the freeze dried whole cranberries into a powder.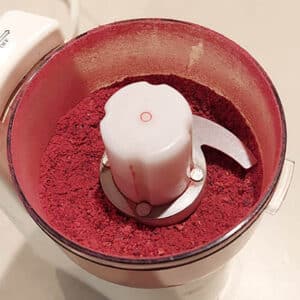 The royal icing mixture does not harden immediately, which allows plenty of time for piping. The frosting will take 4-8 hours to solidify completely before you can stack them.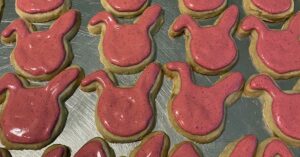 The icing will stay fluid if you cover it and keep it refrigerated.
If you have any icing left over, consider using it to coat some pretzels, graham crackers, or animal crackers, as an added bonus!
Alternates & Substitutions:
We prefer to use cranberries for these cookies for the subtle tartness they provide. However, any freeze dried fruit powder will give your royal icing a kick. Freeze dried fruits have become popular as snacks for kids. They are also popular as dietary supplements. Trader Joes and Target stores sell freeze dried strawberries, raspberries, peaches, and blueberries, for example. We bought our cranberries from nuts.com. Amazon sells freeze dried cranberry powder, so no need to grind. Just make sure it is freeze dried fruit, NOT dried fruit (e.g., Craisins). Freeze dried pomegranate powder is a nice substitute for cranberries because it has a similar tartness and also works with the Christmas theme.
We use a 2 1/4 inch circle cookie cutter for the "Royal Cranberry" version of these cookies, and we decorate them with a few candied pearls — for elegance, of course.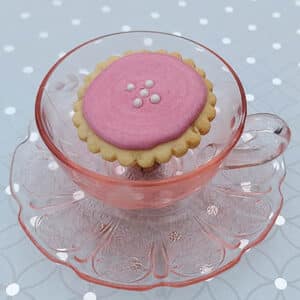 Don't Shoot Your Eye Out!
If you're a fan of the holiday classic movie "A Christmas Story", then check out Adventure Baker's own Ralphie quiz book (available in paperback and kindle e-book) (#Ad):
Is your knowledge of Ralphie and his family worthy of an A+?