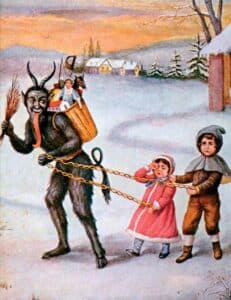 A fiery spice twist on monster cookies
We all know Santa brings gifts to the good little children… but Krampus tags along to take care of the naughty boys and girls.
Enjoy this almond butter tribute to the one and only Krampus monster! Red Hots candy eyes, shredded coconut hair, almond sliver fangs, and a chili chocolate temper. A chewy cookie with bite. Have you been naughty?
On a visit to Pennsylvania Dutch country, we picked up a pack of monster cookies (you know — peanut butter, oats, chocolate chips, and M&Ms — yum!) at a country store. This led us to ponder how we could create our own Christmas tribute to these childhood favorites. Sure, we could have simply used red and green M&M's instead of multi-colored ones in order to check-the-box for "Christmas", but that wasn't adventurous enough for us. So, we started jotting down all the Christmas-related monsters we could think of to serve as our inspiration… and we quickly realized that while there may be some notable Christmas villains, there aren't really too many Christmas monsters. After we crossed out the conceptual monsters like "greed" and "seasonal depression", our list was down to just two: the Bumble from the Rudolph claymation TV specials… and Krampus from central European legend. But since we all know the Bumble ultimately lacks bite (get it? Thanks, Hermey!), Krampus won the day.
Note: This cookie was designed, as always, with taste in mind first. If Krampus himself didn't scare you away, please don't let the fact that it's gluten-free keep you from trying this fiendishly delicious cookie! 😉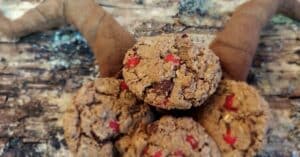 Krampus Cookies
A fiery spice twist on monster cookies
Ingredients
¼

cup

unsalted butter

(room temperature,

½

stick)

½

cup

dark brown sugar

(packed)

½

cup

white granulated sugar

1 ½

eggs

(large, see note)

¾

cup

almond butter

(well-mixed)

1 ½

teaspoons

vanilla extract

1

teaspoon

baking soda

¾

teaspoon

ground cardamom

¾

teaspoon

ground cinnamon

⅛

teaspoon

salt

(or

¼

tsp if using unsalted almond butter)

¼

cup

coconut flakes

(sweetened, packed)

2

cups

old fashioned oats

½

cup

Red Hots candy

1

bar

3.5oz chili dark chocolate

(e.g., Lindt, chopped into large chunks)

¼

cup

almond slivers
Instructions
In a large mixing bowl, whip the butter till it's pale and fluffy.

Add the brown sugar and white sugar and beat 1-2 minutes until smooth.

Add the eggs and beat another 1-2 minutes.

Add the vanilla extract and mix thoroughly.

Add almond butter, baking soda, cardamom, cinnamon, and salt, and mix thoroughly.

In a separate bowl, combine the oats and coconut flakes together.

(If using an electric stand mixer, switch to paddle attachment) Gradually add the oat and coconut mixture into the large mixing bowl, and stir till mixed evenly.

Add in the red hots and chili chocolate bits, and stir slowly till mixed evenly.

Cover and refrigerate for 15-30 minutes.

Preheat the oven to 350°F.

Using a 2 Tablespoon cookie scoop, ball the chilled dough and place 2 inches apart on a cookie tray lined a silicone baking mat or with parchment paper. Ensure no Red Hots are exposed to touch the tray on the bottom of the ball because they will melt.

Bake for 12 minutes. Remove the cookies from the oven and allow the cookies to remain on the tray for 4 minutes to solidify before moving them to a cooling rack.
Tips and tricks:
For measuring 1.5 eggs, first add one large egg. Then in a separate bowl, beat another egg until well-combined. Add two Tablespoons (i.e., half) of the beaten egg.

Honestly, we nearly always double the batch to 48 cookies — so 3 eggs is easier to add than 1.5!

Plus, the dough balls freeze well to bake any extras later. Just be sure to allow the dough to thaw before baking.

Ensure your almond butter is well-mixed in its container. That is, don't just use the unstirred oily mixture at the top or the hard stuff at the bottom.

Another good reason to double the batch size is that it's also easier to find a 12oz (1.5 cup) jar of almond butter, which you can use in a double batch without having to worry about fully mixing it in the container first.

Be sure to use old fashioned oats (also known as rolled oats), not quick oats or steel cut oats.
When balling the dough, ensure no Red Hots are exposed on the bottom of the ball. Any candies touching the tray will melt and form an undesired glass-like pool of red.
The cookies will look undercooked when you take them out of the oven. There will be no golden brown color on the edges, for example. The cookies should be allowed to begin to solidify on the tray for 4 minutes after they are taken out of the oven before being moved to a cooling rack. They will further solidify on the cooling rack and should be chewy when finished — not stiff and easily breakable.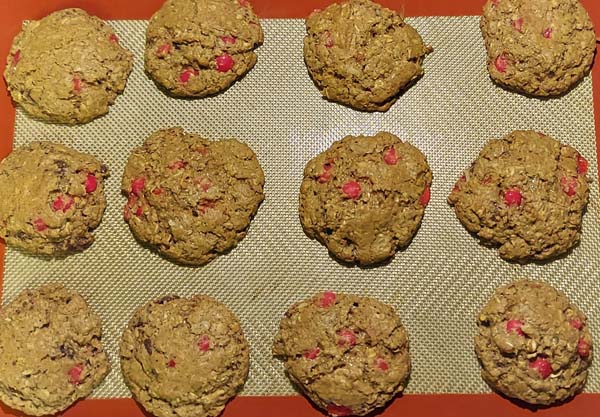 Lindt Chili Dark Chocolate bars are available at most grocery stores.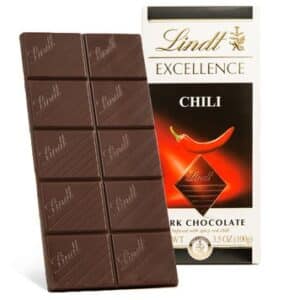 If you're having trouble finding Red Hots candy at your local store, you can buy them in 3.5oz or 10oz packs at amazon.com (#Ad):