Soft gingerbread sandwich cookies with lemon marshmallow filling
These tiny gingerbread cookies have the right combination of spices, the right softness… oh, everything is right. They are beautiful, too. The lemon marshmallow filling really makes these Stellar cookies something out of this world!
We tried many variations of gingerbread to create a recipe with the proper softness that also wouldn't spread or rise too much during baking. In fact, if you want an alternative to decorating sugar cookie cut-outs this year, we offer this gingerbread cut-out recipe for your consideration. We used pie plunger cutouts to really make these cookies look special, but any cutter will do.
We all know that lemon sauce tastes amazing with gingerbread, so we used lemon marshmallow filling to bring everything in these cookies together, literally. Stellars freeze so well that you can enjoy these Christmas cookies on the 4th of July, too!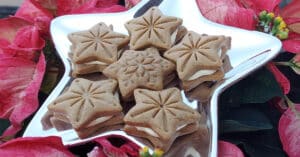 Stellar Cookies
Soft gingerbread sandwich cookies with lemon marshmallow filling
Ingredients
Gingerbread Dough
2

Tablespoons

unsalted butter

(room temperature)

½

cup

light brown sugar

(packed)

½

cup

white granulated sugar

1

egg

(large, beaten)

½

cup

molasses

⅓

cup

unsweetened apple sauce

½

teaspoon

vanilla extract

3 ⅞

cups

all-purpose flour

½

teaspoon

salt

1

teaspoon

baking soda

¼

teaspoon

baking powder

1 ½

teaspoons

ground cinnamon

1 ½

teaspoons

ground ginger

½

teaspoon

ground allspice

¼

teaspoon

ground nutmeg
Flour Spice Mixture (for rolling)
¼

cup

all-purpose flour

¼

teaspoon

ground cinnamon

¼

teaspoon

ground allspice
Lemon Marshmallow Filling
2

envelopes

Gelatine

(e.g.,

½

oz /

14

g Knox Gelatine)

⅔

cup

water

(divided into 2 x

⅓

cup)

1

cup

white granulated sugar

⅔

cup

light corn syrup

⅛

teaspoon

salt

1

teaspoon

vanilla extract

1 ½

teaspoons

lemon extract

yellow food coloring

(optional)
Instructions
Gingerbread Dough
In a large mixing bowl, whip the butter till it's pale and fluffy.

Add the brown sugar and white sugar and beat 1-2 minutes until smooth.

Add the egg and beat another 1-2 minutes.

Add the molasses, applesauce, and vanilla extract and mix thoroughly.

In a medium bowl, combine the dry ingredients:

3

cups of the flour, baking soda, baking powder, salt, cinnamon, ginger, allspice, and nutmeg.

(If using an electric stand mixer, switch to the paddle attachment) Gradually stir the dry ingredients into the cream mixture on the lowest mixer speed until combined. The dough will be sticky, so add in the remaining

⅞

cup flour and stir until blended.

Divide the dough into two parts and wrap each in plastic wrap.  Refrigerate for at least 1 hour (even overnight, if desired).

Preheat the oven to 350°F.

In a small bowl, prepare the flour spice mixture (for rolling). Mix together the

¼

cup flour,

¼

teaspoon of cinnamon, and

¼

teaspoon of allspice. Sprinkle this mixture onto your rolling surface to prevent the cookie dough from sticking.

Roll out the dough to 3/16 inch thick. Use a 2-inch star shaped pie plunger (or other symmetricsl shape) to cut out shapes and plunge a design into the cookie. Place them on a cookie tray lined with a silicone baking mat or parchment paper, leaving ½ inch between cookies. The cookies will not expand much during baking.

Bake the cookies for 8-10 minutes until the edges begin to set. Immediately move them to a wire baking rack and allow them to cool.
Lemon Marshmallow Filling
In a large mixing bowl of an electric stand mixer, combine the Gelatine with

⅓

cup of cold water and stir slightly till roughly combined. Let it sit to bloom. Connect the whisk attachment to the stand mixer for later.

Meanwhile, in a 2 quart sauce pan, mix the remaining

⅓

cup of cold water, white sugar, corn syrup, and salt. Place the pan over medium-high heat, cover it, and allow it to cook for 4 minutes.

Remove the lid and clip a candy thermometer to the side of the pan and allow the syrup mixture to continue cooking until it reaches 240°F. This will take another 15-30 minutes. Immediately remove the pan from the heat when the temperature reaches 240°F.

Turn the stand mixer to low speed and slowly (and carefully — the syrup is extremely hot!) begin pouring the syrup mixture from the pan so that it runs down the side of the mixing bowl and into the gelatin mixture. You can use a rubber spatula to direct the liquid flow (see picture).

Once all the syrup is added, gradually (so that it doesn't splash) increase the mixer speed to high and whip for 12-14 minutes. Carefully feel the outside of the bowl to check that the temperature is lukewarm. The mixture will become a very thick marshmallow cream.

Add the vanilla extract, the lemon extract, and (optional) yellow food coloring and whip for 1 more minute.

While it's still warm, transfer the marshmallow to a piping bag with a medium round tip (Wilton #6).

Pipe the marshmallow filling onto the back of one gingerbread cutout, then sandwich it together with another, ensuring the gingerbread pieces are aligned for symmetry.  Don't make the filling so thick that the marshmallow will spill out the sides when sandwiched, as this will make stacking and storage more difficult.  The assembly process goes much faster with one person piping and another person sandwiching the gingerbread together. 

Allow the marshmallow filling to set, about 4 hours, before stacking the cookies.
Tips & Tricks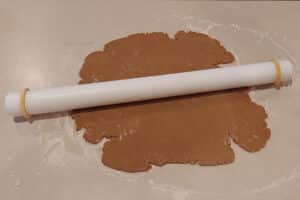 We like using the Flour Spice Mixture instead of just plain flour. The little extra bit of spice makes them extra nice.
If you're using a plunger cookie cutter, be careful that the dough doesn't get stuck in the design. This can be very frustrating! Press the plunger into the flour spice mixture before cutting the cookie dough.

Getting clean separation of the dough from the plunger works best when the dough is chilled.
Also, the 3 ⅞ cup measurement for flour in the Gingerbread Dough ingredients list may sound odd, but the optimal amount of flour to balance "cookie texture" vs "ease of plunging" repeatedly turned out to be somewhere between 3 ¾ cups and 4 cups of flour, so we always use 3 ⅞ cup for this recipe now.
The marshmallow recipe makes more than you will need to fill the cookies. Here are some ideas for the extra marshmallow:

Pipe the extra marshmallow onto wax paper or silicone mat. Use large round (Wilton #12) or star tip (Wilton #22) to pipe heart, rosette, or Hershey Kiss shapes. You can garnish these with sugar sprinkles or chocolate. Lemon marshmallows are surprisingly delicious with dark chocolate drizzled on top!
If you're tired of piping, spread the leftover marshmallow in a glass dish that has been coated with cooking spray (e.g., Pam) and dusted with a mixture of equal parts powdered sugar and cornstarch. After the marshmallow sets (approx. 4 hours), remove marshmallow from the dish and put on wax paper that has been dusted with the powdered sugar cornstarch mixture. Use a pizza cutter to slice it into squares. Toss the marshmallow cubes in the powdered sugar cornstarch mixture to prevent sticking.
Watch Alton Brown's marshmallow episode (Season 11, Episode 13: "Puff the Magic Mallow") of Good Eats for step-by-step instructions and tips for making homemade marshmallows.
Alternates & Substitutions:
The gingerbread dough is amazing on its own. The shapes don't expand when you cook them, so they are great for soft cookie cutouts. We recommend rolling them to ¼ inch thick for standalone cutouts, which is different than the 3/16 inch thickness we recommended above for when making Stellar sandwich cookies.
Gingerbread goes great with lemon, so to simplify the cookie, instead of making a marshmallow filling you can decorate the gingerbread with a powdered sugar icing made with lemon juice.
The plunger cutter is only used for added decoration to get the indentation pattern. Since plungers can be hard to work with sometimes (see Tips & Tricks above), you can use a regular 2 inch cookie cutter, as long as it's symmetrical.
See the picture below for other cutter shape examples, like snowflakes and Christmas trees.