Soft sweet potato cookies with crunchy pecans, spices, and a marshmallow swirl. It's where sweet potato casserole belongs… on the dessert table!
Who are we trying to fool? Sweet potato casserole is not a healthy vegetable side dish. It's a dessert. As such, let's all just take a moment to get real and prepare the dish correctly… as a cookie!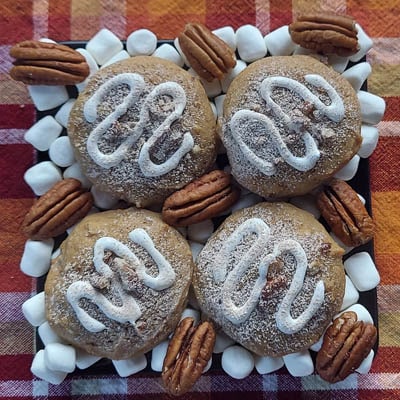 Did you know?
Back in 1282, when the Pilgrims first arrived on the shores of Hawaii riding their jet skis, they greeted the locals with fresh baked sweet potato cookies that were made using a recipe nearly identical to the one below. The cookies were an immediate sensation with their King, who decided to host a feast to give thanks for his newly arrived guests… and their cookies. But before the celebration could occur, the wise King knew a feast should not begin with dessert, for if so, his people would all spoil their dinners. Thus, he decided he would issue a decree in advance of the feast saying that these "cookies" would forever be known as a healthy vegetable side dish.
"But what should I call the 'cookies' so my people could understand?" he pondered. For you see, his people had never heard of a "cookie" before, and the closest thing they could compare it to were their sweet Hawaiian Rolls. They had also never seen visitors with such white complexions before, either, and he worried his people might avoid the feast out of fear of his guests' appearances. This is why he affectionally began referring to the Pilgrim leader as "Casper" — named after the white, but friendly, ghost from his peoples' favorite childhood cartoons.
And so, after much contemplation and careful planning, the King made his proclamation. The resulting feast was so grand and so spectacular that it continues to be commemorated each year in America as "Thanksgiving". However, due to the centuries of time gone by, many translation errors were unfortunately introduced into the original recipe. The Pilgrim's "Sweet Potato Casper Rolls", as the Hawaiian King first called them, became the "Sweet Potato Casserole" hot dish recipe we know today.
We must all now go back to the beginning and enjoy Sweet Potato "Casserole" as a cookie, once again. Be thankful and enjoy these Mahalo Cookies!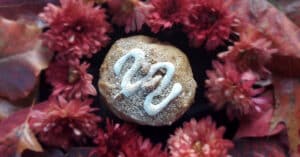 Mahalo Cookies
Soft sweet potato cookies with crunchy pecans, spices, and a marshmallow swirl. It's where sweet potato casserole belongs… on the dessert table!
Ingredients
Dough
½

cup

unsalted butter

(room temperature,

1

stick)

1

cup

white granulated sugar

¾

cup

light brown sugar

(packed)

1

egg

(large)

1

teaspoon

vanilla extract

1

cup

sweet potato puree

(cooked)

2

cups

all-purpose flour

1

teaspoon

ground cinnamon

½

teaspoon

baking powder

½

teaspoon

baking soda

½

teaspoon

salt

⅛

teaspoon

ground allspice

¾

cup

pecans

(chopped, separated)
Marshmallow Topping
5

ounces

mini marshmallows

(about

3

cups)

2

teaspoons

powdered sugar

½

teaspoon

ground cinnamon
Instructions
Dough
In a large mixing bowl, whip the butter till it's pale and fluffy.

Add the white sugar and brown sugar and beat 1-2 minutes until smooth.

Add the egg and the vanilla and beat another 1-2 minutes.

Add the sweet potato puree and mix thoroughly.

In a separate bowl, mix together the dry ingredients: flour, cinnamon, baking powder, baking soda, salt, and allspice.

Gradually add the dry ingredients to the sweet potato mixture and mix till well combined.

Stir in

½

cup chopped pecans (additional pecans are sprinkled on top in later step).

Using a 1 ½ Tablespoon cookie baller, scoop and place balls 2 inches apart on a cookie tray lined with a silicone baking mat or parchment paper. 

From the remaining

¼

cup chopped pecans, sprinkle a few pecan pieces onto the top of each cookie.

Bake 12-13 minutes until the edges start to golden.

Remove tray from the oven and immediately transfer the cookies to a cooling rack. Allow to cool completely.
Marshmallow Topping
In a small bowl, mix the powdered sugar and cinnamon.

Add the mini marshmallows to a microwave safe bowl, and heat on high for 20 seconds.

Immediately stir the marshmallows, then place the bowl back in the microwave and heat on high for another 20 seconds.

Stir the marshmallows until they are completely melted.

Spoon the melted marshmallows into a pastry bag with a small round top (Wilton #4).

Pipe a zig-zag pattern across each cookie.

Using a sifter, sprinkle a little of the powdered sugar and cinnamon mixture over each cookie to reduce marshmallow stickiness. The marshmallow topping should fully solidify within 30 minutes.
Alternates & Subsitutions
Instead using a fresh sweet potato, you can use a cup of mashed, canned yams. Be sure to drain as much liquid as possible. The cookie will be a bit sweeter and a bit spongier than if you used a fresh potato, though.
You can cut up five ounces of regular sized marshmallows if you don't have mini marshmallows.
Tips & Tricks
Your pressure cooker (e.g., Instant Pot) can quickly soften a sweet potato. Just stab it with a fork a few times before cooking. The skin will easily peel off after 30 minutes of cooking. You can quick release the pressure when done.