Juicy tutti frutti sandies. Packed with fruit, sweetened with coconut rum.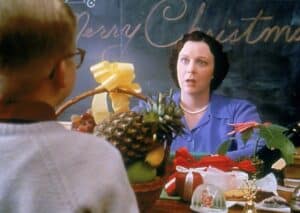 Have you ever wondered what would happen if you crossed tutti frutti with a pecan sandie? No? Well now you don't have to. We mix a whole basketful of fruit into these tiny delights. The dried fruit is first plumped and sweetened using a bit of sugar and coconut rum. The added hints of rum, banana, and clove give it a bit of… dare we say… Juicy Fruit gum flavor (?).
We admit that there's a heckuva lot of flavor going on here, but we promise it all works together as something new and wonderful.
These cookies make a good gift for teachers… a little bribe never hurts.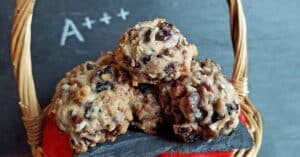 Fruit Basket Cookies
Juicy tutti frutti sandies. Packed with fruit, sweetened with coconut rum.
Ingredients
Candied Fruit (must be prepared ahead of time and allowed to cool)
2

cups

dried fruits

(e.g., any blend of dried fruits, such as cranberries, cherries, blueberries, or strawberries)

½

cup

rum

(e.g., Captain Morgan's Parrot Bay coconut rum)

½

cup

white granulated sugar
Dough
¼

cup

unsalted butter

(room temperature,

½

stick)

½

cup

white granulated sugar

1

egg

(large)

2

teaspoons

rum extract

½

teaspoon

vanilla extract

¼

teaspoon

banana extract

¼

teaspoon

baking soda

¼

teaspoon

salt

¼

teaspoon

ground ginger

⅛

teaspoon

ground cloves

2

cups

candied fruit

(see below)

1

cup

pecans

(chopped)

½

cup

coconut flakes
Instructions
Candied Fruit
Add the rum and sugar to a two quart sauce pan and cook on low until sugar dissolves, stirring frequently.

Add the fruit and turn up heat to medium.  Stir occasionally till the liquid starts to simmer, then turn heat down to low.

Continue to stir occasionally. The fruit will absorb the liquid and plump. When fully plumped or all the liquid is gone (after about 10-20 minutes), remove the pan from heat and drain any excess liquid.

Allow the fruit to cool completely (important).
Dough
Preheat the oven to 350°F.

In a large mixing bowl, whip the butter till it's pale and fluffy.

Add the white sugar and beat 1-2 minutes until smooth.

Add the egg and all the extracts and beat another 1-2 minutes.

In a separate bowl, whisk together the dry ingredients: flour, baking soda, salt, ginger, and cloves.

(If using an electric stand mixer, switch to paddle attachment). Gradually add the dry ingredients to the large mixing bowl and mix thoroughly.

Add the fruit, pecans, and coconut flakes and stir till well combined.

Cover and refrigerate the dough for 20 minutes. It will still be sticky.

Using a 1 Tablespoon cookie scoop, ball and drop dough 2 inches apart onto a cookie tray lined with a silicone baking mat or parchment paper. Flatten the balls slightly.

Bake 16-20 for until the edges begin to turn golden brown. Transfer the cookies to a wire baking rack and allow them to cool completely.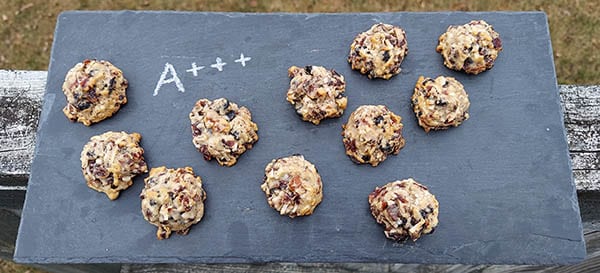 Tips & Tricks:
Banana extract is incredibly strong! 1/4 teaspoon is plenty, else it's banana-rama.
We generally dislike cloves — you won't find cloves in many of our other recipes — but they are good here, we swear. Don't be afraid… it's just 1/8 teaspoon.
Alternatives & Substitutions
Leave out the 2 cups of candied fruits for a deliciously unique flavored pecan sandie cookie.
Don't Shoot Your Eye Out!
If you're a fan of the holiday classic movie "A Christmas Story", then check out Adventure Baker's own Ralphie quiz book (available in paperback and kindle e-book) (#Ad):
Is your knowledge of Ralphie and his family worthy of an A+?