Peanut butter cookies, perfectly balanced with panang curry and coconut flavors. A Thai twist on an American favorite.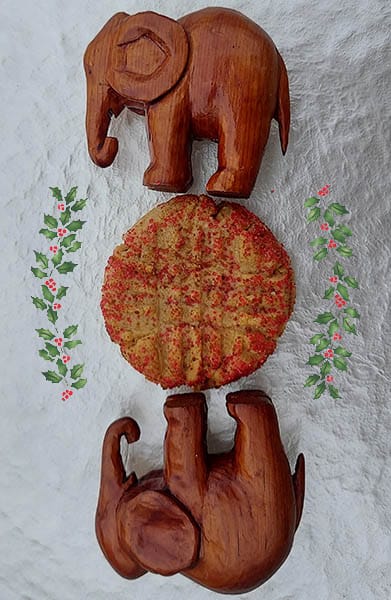 Thai food is known for bold colors and contrasting flavors, yet always finding perfect balance. We believe we achieved that here with our Thai tribute to the all-American peanut butter cookie — by adding panang curry and coconut flavors, then rolling it in red granulated sugar and coconut sugar. The curry does give it a little kick, but only to the "mild" level of a Thai restaurant rating.

We first experienced Thai flavors as a dessert at Mount Desert Island Ice Cream in Bar Harbor, Maine, where we fell in love with their Thai Chili Coconut ice cream. Upon finishing the cone, we sat on a bench in the Village Green and wrote out the recipe for what would become this cookie!
What's the connection to Christmas with the cookie? Isn't this cookie good "Any Thai'm" and not just at "Christmas Thai'm"? Well, um… this is our Christmas gift to the world! You will not be disappointed. If you or someone you know loves pad thai or panang curry dishes, then you'll absolutely go nuts for this cookie recipe!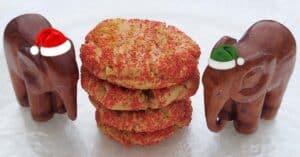 Christmas Thai'm Cookies
Peanut butter cookies, perfectly balanced with panang curry and coconut flavors. A Thai twist on an American favorite.
Ingredients
½

cup

unsalted butter

(room temperature,

1

stick)

½

cup

white granulated sugar

⅜

cups

brown sugar

(packed,

6

Tbsp)

1

egg

(large)

1

cup

creamy peanut butter

(e.g., Jif)

¾

teaspoon

coconut extract

¾

teaspoon

vanilla extract

1 ½

teaspoons

panang curry paste

(e.g., Maesri)

1 ¼

cups

all-purpose flour

½

teaspoon

baking powder

½

teaspoon

baking soda

¼

teaspoon

salt

½

cup

peanuts

(chopped)
Sugar Mixture Coating
¼

cup

coconut sugar

¼

cup

red granulated sugar
Instructions
In a large mixing bowl, whip the butter till it's pale and fluffy.

Add the white sugar and brown sugar and beat 1-2 minutes until smooth.

Add the egg, coconut extract, and vanilla extract, and beat another 1-2 minutes.

(If using an electric stand mixer, switch to paddle attachment) Add the peanut butter and curry paste, then beat on high speed until combined.

In a separate medium bowl, whisk together the dry ingredients — flour, baking powder, baking soda, and salt.

Add the dry ingredients to the large mixing bowl and stir together until mixed thoroughly. 

Cover and refrigerate the cookie dough for 1 hour.

Preheat the oven to 350°F.

In a small bowl, mix the coconut sugar and the red granulated sugar.

Using a 2 Tablespoon cookie scoop, ball the dough and roll it in the sugar coating mixture.

Place the dough balls on a cookie tray lined with a silicone baking mat or parchment paper, leaving 2 inches in between them.

Gently press a fork twice in a crisscross pattern to slightly flatten cookies for faster cooking and to give it the distinctive peanut butter cookie markings.

Bake until the edges begin to set, about 10-11 minutes. Don't over bake, else they will be brittle and crumbly.  As soon as the edges are set, remove from the oven. The centers will look soft and undercooked, but they will solidify.  Allow the cookies to remain on the cookie sheet for 3 minutes, then move them to a wire cookie rack to cool completely.
Tips & Tricks
We find that Jif creamy peanut butter will produce the best flavor and texture for this cookie. We have not had success using all-natural peanut butter varieties, for example, and we do not recommend them for this recipe.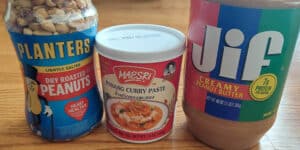 Adding peanuts to creamy peanut butter works better than simply using chunky Jif. This also allows you to choose how many peanuts you want in your cookies.
The dough is thick, yet soft. If you refrigerate the dough for over the recommended 1 hour (e.g., we've left it covered in the fridge overnight), it will be thick and hard to scoop. If it is no longer soft enough to scoop, let it sit at room temperature (e.g., at least 30 minutes).
Alternates & Substitutions
Panang curry paste tends to be more mild and sweet than other red curry pastes, which is why we recommend it. Red curry paste can be substituted in, but be sure to read the ingredients because some varieties of red curry may also include shrimp paste, which could be a dietary concern.
We really like the look of the red granulated sugar coating for these cookies. The red color gives a little extra warning that these are not your average peanut butter cookies. The cookies look really good with a bit of gold colored granulated sugar mixed in, too, if you have it.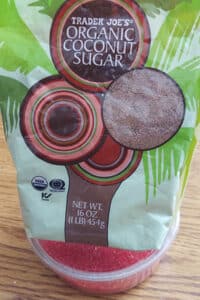 If you're not familiar with coconut sugar, it is available at most grocery stores. It is brown and doesn't taste like coconut — it has subtly sweet taste that is similar to brown sugar, with a hint of caramel. It goes really well with these cookies.