A light and chewy, toasted coconut macaroon cookie with pumpkin spice caramel surprises
Say what?! Toasted coconut paired with pumpkin spice caramel? Oh, my!
If you like watching Friends and drinking wine at your "book club", then you'll love these cookies! Put on your UGG boots, grab a latte from the Starbucks drive-thru, and then pop into Wegman's to buy the ingredients to bake these Dirty Snowballs today. Don't forget to snap a few selfies along the way!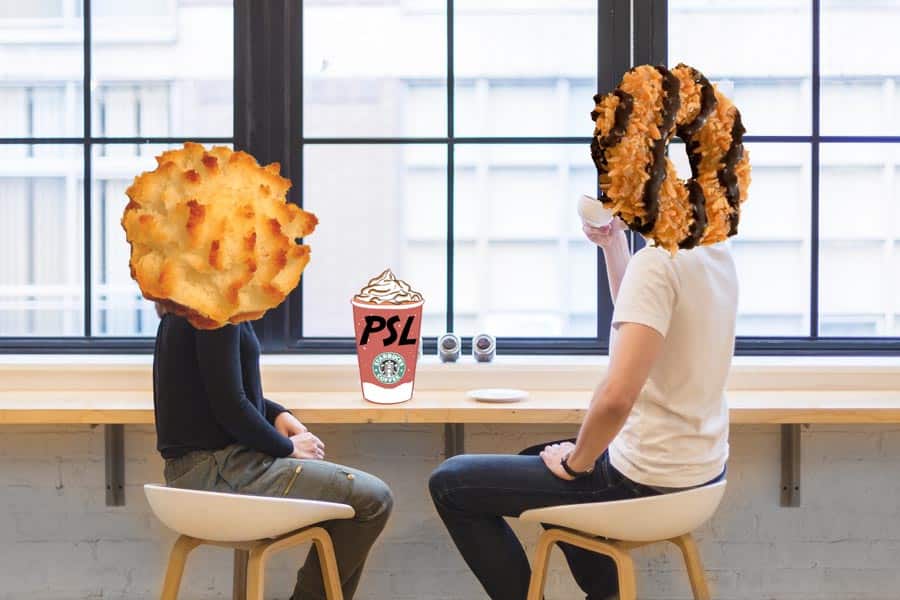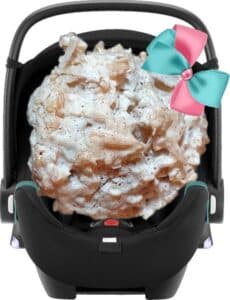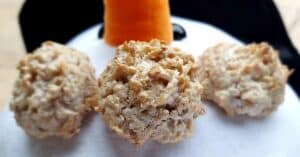 Dirty Snowball Cookies
A light and chewy, toasted coconut macaroon cookie with pumpkin spice caramel surprises.
Ingredients
14

oz

coconut flakes

(sweetened, e.g., Baker's)

1

teaspoon

ground cinnamon

½

teaspoon

ground nutmeg

¼

teaspoon

ground allspice

¼

teaspoon

ground ginger

14

caramel squares

(

4

oz of caramels, e.g., Kraft)

4

egg whites

⅔

cup

white granulated sugar

¼

cup

all-purpose flour

1

teaspoon

vanilla extract

¼

teaspoon

salt
Instructions
Toasted coconut
Line a baking tray with aluminum foil and evenly spread the coconut flakes on the tray.

Place the tray of coconut flakes in the oven for 5 minutes, then remove the tray and stir the coconut. Repeat this 2-3 more times until the coconut is toasted to a light golden brown. Be careful, the coconut will brown quickly once it begins to toast.

Remove the tray from the oven and allow it to cool on a cooling rack.
Spice coated caramel
Mix the cinnamon, nutmeg, allspice, and ginger spices together in a small bowl.

Cut each caramel square into 12 pieces.

Add the caramel pieces to the bowl of spices, ensuring each gets coated in spices. This will prevent the caramel pieces from sticking together.

In a medium bowl, add the toasted coconut and the contents of caramel spice bowl and stir till mixed evenly.
Dough
Preheat the oven to 325°F.

In a large mixing bowl, whip the egg whites and sugar together approximately 8-10 minutes until stiff peaks are formed.

Add the vanilla extract, flour, and salt to the mixing bowl and continue to whip a few more seconds till mixed thoroughly.

Gently fold in the toasted coconut caramel spice mixture using a rubber spatula.

Using a 1 ½ Tablespoon cookie scoop, ball dough and place 2 inches apart on a cookie tray lined with a silicone baking mat or parchment paper. 

Bake for 14-18 minutes, until tips or edges start to become golden brown. Remove the cookies from the tray and place onto a cooling rack. The cookies will still be soft, but will fully solidify on the cooling rack.
Alternates & Substitutions:
Instead of measuring the pumpkin spice ingredients separately (cinnamon, nutmeg, allspice, ginger), you can use your favorite pre-mixed pumpkin spice blend.
If you can find Kraft Caramel Bits (we found them at Target), this can be a timesaver over cutting up caramel squares. Replace the cut-up 14 caramel squares with the equivalent 4oz of these caramel bits, per batch. You can't coat these in the pumpkin spice blend, so mix your pumpkin spices in with the toasted coasted coconut.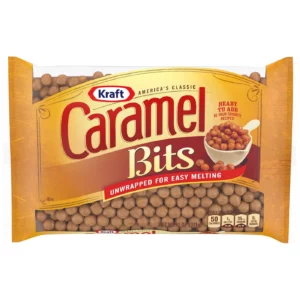 If you want to drizzle chocolate over these cookies, nobody will stop you.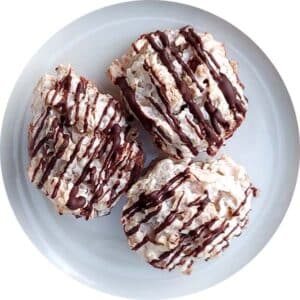 Tips and tricks:
Since no two people have ever gotten the same result when trying to use a measuring cup to measure shredded coconut, we recommend adding the whole 14 ounce bag! Shredded coconut tends to be sold in 7 or 14 ounce bags at the grocery store.
Don't overmix the dough when folding in the final ingredients. Otherwise, the egg whites may deflate resulting in flat pancake cookies instead of round snowballs.
The reason we say to remove the cookies from the tray as soon as they come out of the oven is because we don't want the caramel to fully liquify. Even a few extra minutes exposed to heat may be just enough to make the caramel ooze out onto the tray rather than stay inside the cookie. We're going for gooey caramel, not molten lava. You can also refrigerate the caramel bits for 30 minutes before mixing them in.